How to use Virtual Disk Protection Toolkit...
We provide guide for how to use Virtual Disk Protection Toolkit to package, copy protect, and publish video, software, documents and deliver to customers on any physical media or make available for download via the internet....
A step by step guide for creating protected virtual disks and creating activation codes.
Quick start user guide...
Create an account on TrusCont server
Download Virtual Disk Protection Toolkit to protect and package your files into a single virtual disk file.
Delivering the Virtual Disk to End Users

Upload your virtual disk file to your web site or any other file sharing service. It is safe to make it publicly available for download. No one can access your files without getting an activation code from you.

Use TrusCont License Management System to create an activation code for each customer. By default each code can be used for accessing the virtual disk on a single PC.
Updating Protected Virtual disks to End user
Accessing the Virtual Disk
Instructions for End Users
Managing Activation Codes - Suspend, renew, revoke individual customer activations.
How to ReKey?

Download
Creating a New Virtual Disk
Add files to your project and select files to protect
Project options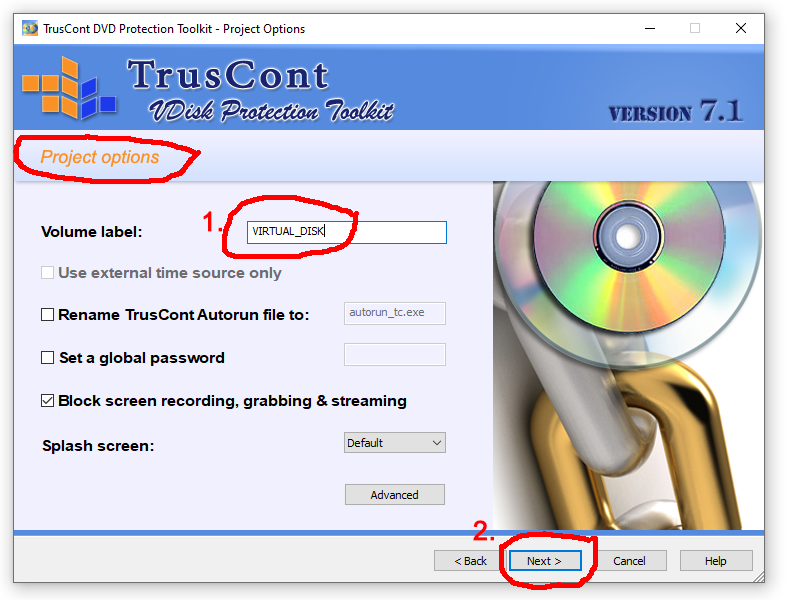 Save virtual image file on Hard Disk