USB dongle software protection and licensing
Dinkey Pro/FD to lock your software to a dongle. USB dongle software protection and licensing your software from illegal copying and enforce the terms of your software's licence...

Dinkey Pro/FD Dongle...
Dinkey Pro/FD

Supported Technologies
Prices
No Quibble Guarantee
Free Demo Kit

Solutions

IT Security Solutions
Software Anti-Piracy
User Access Control

Dinkey Pro/FD
Hardware-based Copy Protection and Licensing
Dinkey Pro/FD is a sophisticated system designed to protect your software from illegal copying and enforce the terms of your software's licence.
Use Dinkey Pro/FD to lock your software to a dongle so that each time you run your protected program, it will check for the presence of the dongle. If the right dongle is found, the program will be executed, otherwise it will not run. PDF files can now also be protected with these devices.
Dinkey Pro/FD can be used to protect both 32-bit and 64-bit software for Windows, Mac OS X and Linux on any x86 or x64 platform. PDF documents can also be protected for use on Windows.
Main Features
No need to install drivers.
Dongle hardware based on smart card technology that is proven to be very secure and is widely used in the security industry.
Communication between your software and the dongle uses very strong encryption techniques: a mixture of RSA encryption and strong 128-bit encryption. Using RSA encryption means that even if a hacker discovered the public key in our software then they could not work out the private key in the dongle. This means it is not possible to emulate the hardware dongle.
Many techniques to improve the security between your code and our code. This is lacking in many dongle systems but it is often the weakest part that hackers exploit. For example, you can encrypt all the parameters you pass to our API. This is not possible with any other dongle protection system.
Plus and Net model dongles contain an 8KB secure data area hidden to the end user and accessible only via your protected software using our API.
Plus and Net model dongles can be used to encrypt or decrypt data you pass to them. All encryption is executed in the dongle itself.
Strong anti-debug code, a hallmark of all our software protection systems.
A Shell wrapper that can protect and encrypt all Windows executables applications (including .NET assemblies) automatically, without having to modify any source code.
The Dongles
We offer two different types of dongles: Dinkey Pro and Dinkey FD. Each dongle type is available in three different models: Lite, Plus and Net.
The flexibility of the Dinkey Pro/FD allows you to protect software that will work with any and all combinations of type and model.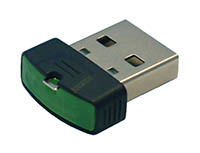 Dinkey Pro Mini Case
Dongle Types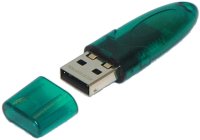 Dinkey Pro Standard Case
Dinkey Pro is new range of driverless USB security keys (dongles) offering improved security and functionality over the original Dinkey series. Based on smart card technology, the Dinkey Pro is extremely secure, using powerful encryption algorithms and strong authentication techniques.
Dinkey FD is a new range that combines a very secure, driverless dongle and 8GB flash drive in one USB device. This enables you to distribute your software on a flash disk, which also acts as the dongle protecting your software.
Dinkey FD
Dongle Models
Lite dongles allow you to protect your software simply and quickly without the need to program dongles.
Plus dongles not only allow you to protect your software, but also to enforce licence terms and store your own secure data. For example, one of the many things that you could do is to put an expiry date on one of your programs. You also have the facility to alter these protection parameters remotely. So, for example, at a later date you could change the expiry date on your program just by issuing a code over the telephone to your customer.
Net dongles have all the features of the Plus, and in addition allow you to use one dongle per network instead of one dongle per machine. In addition, you can control the number of network users using your protected software at any one time.
Supported Technologies
Supported Platforms and Programming Languages
Dinkey Pro/FD Shell protection can be used to protect virtually any Windows executable or DLL, including .NET assemblies, without any modifications to your source code.
For greater flexibility and access to the full feature set of Dinkey Pro/FD, you can call our API from your application. The Dinkey Pro/FD API can be used with any programming language capable of calling a Windows DLL. Code examples of using the API in many major languages are included in the SDK, and we are continually adding examples for new languages. Contact us about sample code for your development environment.
Supported Technologies
Dinkey Pro/FD Prices

On this page you will find prices for Dinkey Pro/FD in India Rupees.
We believe our dongles offer the best possible value and, unlike most other dongle manufacturers, we are happy to publish our price list. In the unlikely event that you find a comparable dongle at a lower price, we will match the price. This price match promise does not include the cost of the SDK.
Prices listed on this page including taxes and shipping.
Dinkey Pro/FD Software Development Kit E

7,500.00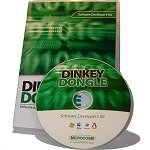 You must purchase a Dinkey Pro/FD SDK with your first order. The SDK includes all of the tools and documentation you need to lock your software with Dinkey Pro and Dinkey FD dongles.
We don't charge for support or updates - the price of the SDK covers all updates and technical support for life.
Dongles
Local Dongles
Dongles connected to a device and used to protect a single copy of your software on that device.
Order Quantity
Pro Lite
Pro Plus
FD Lite
FD Plus
1 - 49

R

1,255.80

R

1,704.30

R

1,883.70

R

2,511.60
50 - 99

R

1,210.95

R

1,614.60

R

1,794.00

R

2,421.90
100 - 999

R

1,166.10

R

1,524.90

R

1,704.30

R

2,332.20
1000 - 9999

R

1,076.40

R

1,345.50

R

1,614.60

R

2,242.50
10000+

R

986.70

R

1,166.10

R

1,569.75

R

2,197.65
Network Dongles
Dongles connected to a network server and used to protect multiple copies of your software on the same network.
Order Quantity
Pro Net
(5 users)
Pro Net
(unlimited users)
FD Net
(5 users)
FD Net
(unlimited users)
1 - 9

R

2,421.90

R

3,767.40

R

3,229.20

R

4,574.70
10 - 49

R

2,242.50

R

3,498.30

R

3,139.50

R

4,395.30
50 - 99

R

2,152.80

R

3,318.90

R

3,049.80

R

4,215.90
100+

R

2,063.10

R

3,139.50

R

2,870.40

R

3,946.80
* The Net dongle user limits are the maximum number of simultaneous users supported by the dongle.You can specify your own network user limit up to the dongle maximum when adding protection to your software.The limit you choose can also be changed at any time by sending a secure update code to your customer.
Mini Case +

R

179.40 per dongle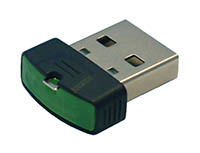 The Dinkey Pro prices quoted above refer to dongles with the standard case. The mini case option (pictured right) is available for an additional charge of R179.40 per dongle.
Mini Pro dongles are ideal for use with laptops and tablets where there is a risk of accidental damage to a dongle protruding from a USB port, and in embedded systems where space is a premium.
The mini case option is available for all models of Dinkey Pro dongle. Dinkey FD dongles are not available in the mini case.
Custom Dongle Serial Numbers +10% of dongle price
Every Dinkey Pro and Dinkey FD dongle is preprogrammed with a unique serial number, which can be read by the SDK utilities and by your protected software.
In special cases, you may want to exactly specify what your dongles's serial numbers should be. For example, if you are using Dinkey Pro/FD to replace an existing protection system where each customer already has a unique ID, it's possible to order dongles with serial numbers to match these existing IDs.
There is a charge of 10% of the price of the dongle to customise its serial number. You can specify the serial numbers that you want when placing an order.
No Quibble Guarantee
We have designed Dinkey Pro/FD to cater for the needs of most software developers. However it is not until you actually use a system that you really know if it is the right one for you. That is why we offer a 30-day money back guarantee.
This is not just a guarantee that the SDK and dongles do what we claim. We will refund your money should you wish to return the system for any reason whatsoever within 30 days of purchase. This guarantee only applies to customers of Microcosm. If you purchased any our products through one of our partners you must contact them for details of their conditions of sale.
The dongles themselves come with a 5 year replacement guarantee for use under normal conditions. This does not cover physical damage.
Free Demo Kit
Get a Free Dinkey Pro/FD Demo Kit
Please contact us to request a Dinkey Pro/FD demo kit. The kit is free of charge, however we may ask you to pay for shipping depending on your location. Every demo kit includes:
A Copy of the Demo SDK
The demo SDK has exactly the same features and functionality as the SDK purchased with your first order. It is not limited in any way. The SDK includes all of the software tools, documentation and code samples that you need to add Dinkey Pro/FD protection to your software.
One Dinkey Pro or Dinkey FD Dongle
We aim to send you the model of dongle that most suits your requirements, based on the information you provide below. If there is a particular model of dongle that you would like to evaluate, please let us know in the Additional Notes field.
All information that you provide here will be used solely for evaluating the suitability of Dinkey Pro/FD for your needs, and to communicate with you about your use of the Dinkey Pro/FD demo kit. We will never use this information to send you unsolicited marketing materials, and we will never disclose your information to third parties.
Contact us
Please send email or contact us directly to below numbers...
About US | Terms&Conditions | Privacy | Contact Us | Blog
Sitemaps: XML | HTML | URL | ROR
Copyright © 2010-2015 Aft India. All rights reserved.