DoStudio Indie 4.0/ Blu-ray Disc™ Authoring Software...
DoStudio Authoring Indie Edition is an entry-level professional Blu-ray Disc™ authoring solution...
DoStudio Indie is a professional authoring and encoding solution for 2D, 3D, and High Fidelity Pure Audio Blu-ray Disc production. Designed for the small post facility or independent author, DoStudio Indie empowers you to create interactive pop-up menus, build and edit playlists, and control every action in your Blu-ray Disc™ project, all through an intuitive point-and-click interface — no scripting required! From menu layout to cutting replication-ready masters, DoStudio Indie replaces the complexity of the Blu-ray Disc™ specification with easy-to-understand nomenclature and friendly workflows.
DoStudio Indie 4.0 Overview...

DoStudio Indie 4.0 / DoStudio Authoring Indie Edition is an entry-level professional Blu-ray Disc™ authoring solution.
Add pop-up menus
Designed for DVD authors who are accustomed to a point-and-click environment, the DoStudio Indie interface enables point-and-click pop-up menu creation with animation and sounds effects. DoStudio Indie replaces the need for a deep level of scripting knowledge, with intuitive controls and simple nomenclature: Menu Blocks, Sets, Buttons and Actions.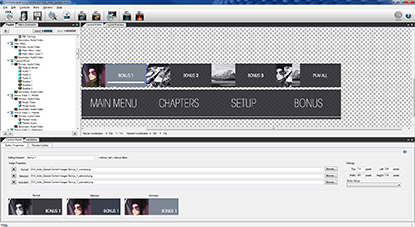 Produce complex interactivity
Create interactivity with our patent-pending Action Editor, an easy-to-use interface for assigning optimized BD-J code to menus and disc events. Using a point-and-click interface, you can add complex interaction to set variables and add logic to your disc playback Conditions and APRMs (advanced parameters).

Import layered Adobe® Photoshop® files
Offering full support of Photoshop layer sets, DoStudio Indie empowers graphics professionals to focus on visual design using the tools they know. DoStudio Indie can import individual graphic elements or entire screen layouts at HD resolution. Use our simple layer naming conventions, and DoStudio Indie will automatically import the images, and apply the properties for various button states such as "Normal," "Selected," and "Activated".
BD Touch and Second Screen devices
New BD Touch and Second Screen media features allow you to add video, audio, images, and web links to a DoStudio Indie project that can be downloaded to a second screen device using the BD Touch app on a home WiFi network. Easily add bonus content to a project that isn't part of the main program.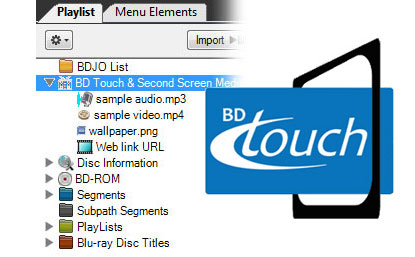 AVC Encoding
The DoStudio AVC Encoder is an easy-to-use and cost-effective encoding solution for Blu-ray Disc™ media. With support for Primary and Secondary (Picture-in-Picture) video streams, and a workflow optimized for the DoStudio Authoring environment, it's a great add-on to your DoStudio Indie purchase. Learn More
Create replication-ready Blu-ray Disc™ masters
DoStudio Indie includes everything you need to create replication-ready, AACS protected, BDCMF formatted discs with Managed Copy. With full support for both BD-25 (single-layer) and BD-50 (dual-layer) formatting, DoStudio BDCMF masters have been replicated at every major Blu-ray Disc™ replication facility in the world.